Considering deferring or placing your loans in forbearance due to financial struggles related to coronavirus (COVID-19)? Skip directly to our breakdown on how the CARES Act impacts you, your student loans, and your credit — or read on to learn more about how pausing your student loans typically works.
There's no denying that getting a college degree is one of the best things you can do to pursue a prosperous future, but this professional head start can come at a steep cost. Over the past few years, student loan debt for the country has topped $1 trillion, leaving over 40 million Americans in a serious financial predicament.
Unfortunately, accompanying the ever-increasing mountain of student debt is the avalanche of loan delinquency. Recent graduates accustomed to the college lifestyle, often without the means to repay debt, are being severely ensnared in an endless cycle of late payments and possible default. While the future of a college education hangs in the balance, today higher education is still a necessity that often leads to significant debt for many Americans each year.
Don't let student loans ruin your FICO score before you even get a chance to build credit in the first place. If hard times come knocking after graduation, loan deferment or forbearance are viable safeguards against overwhelming loan payments.
Deferment vs. Forbearance
If you're having trouble making ends meet due to student loan payments, loan deferment or forbearance can offer some temporary relief. With that said, it's important to recognize the difference between these two payment reprieves before taking action.
Deferment and forbearance both effectively put your minimum loan payments on hold in instances of economic hardship. A key distinction between these two options is whether interest continues to accrue:
Deferment: For government-subsidized loans, interest payments are suspended. Deferment is more difficult to qualify for, but will save you money on interest as it will not accrue during the time of deferment.
Forbearance: Your monthly loan payments may be reduced or put on hold, but you will continue to accrue interest on the outstanding balance of the loan regardless of the forbearance.
Both options offer a safety net for individuals in over their heads in a sea of student loan debt, but does this financial relief come at a cost to your credit score?
Does Deferment or Forbearance Negatively Affect Credit?
If the cost of student loan payments is too overwhelming, don't hesitate to seek out deferment or forbearance, especially since it will have less of an impact on your credit score than would a reported late pay or defaulted loan status.
A common misconception is that pausing student loan payments will wreak havoc on your credit. In reality, suspending payment through deferment or forbearance should not significantly impact your credit score but may create some volatility once the loan status is updated to reflect the requested change. Meanwhile, not making loan payments that you can't afford and running the risk of late payments is far more costly to your credit score than putting loan payments on pause.
FAQ: Pausing Student Loan Payments Due to COVID-19
Those paying federal student loans now have the option to stop paying without accruing interest or penalties. Federal student loan payments are suspended as part of the $2 trillion stimulus package known as the Coronavirus Aid, Relief, and Economic Security Act (CARES Act). This act was signed into effect on March 27, 2020, but you can request retroactive coverage as early as March 13, 2020.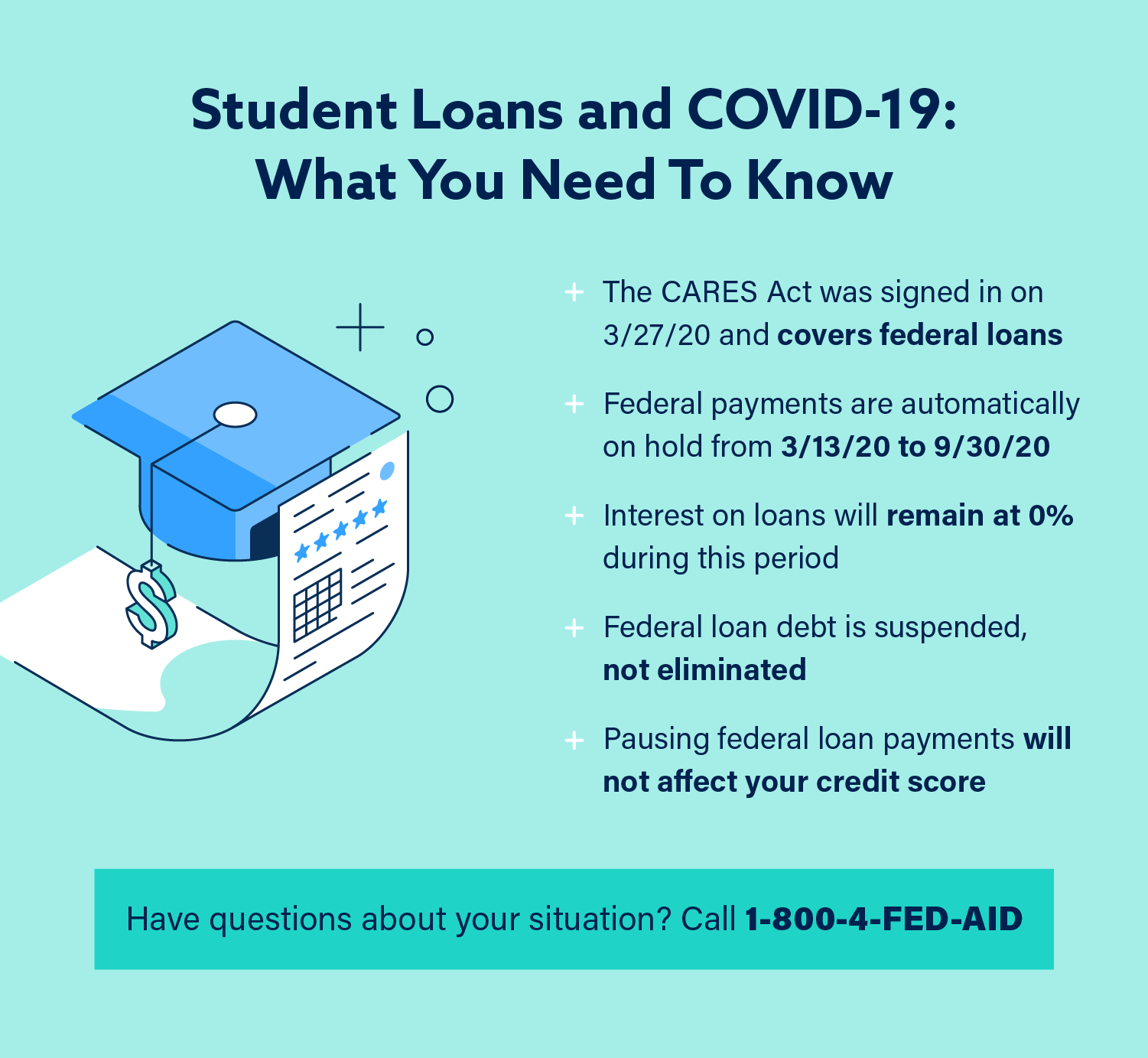 See some fast facts below:
Timeline: Most federal loan payments are on hold from March 13, 2020, to September 30, 2020.
Who qualifies?: People paying back federal loans. Not all student loans are suspended due to coronavirus — private lenders are not required to participate.
Loan interest: No interest will accrue during this period, even though it's called "forbearance" on the Department of Education site.
Collection agencies: Federal loan collections and department-contracted private collection agencies are suspended from sending collection notices, bills or calls.
Contact information: Call 1-800-4-FED-AID to get in touch with loan services or visit the StudentAid site for more details.
How does the CARES Act impact federal student loans?
The CARES Act COVID-19 provision has suspended student-loan payments, collections and interest on student loans through September 30, 2020. People don't have to worry about making these payments or accruing additional interest during this time. But once October 1st arrives, regular payments will be required again (unless further aid is passed in the future or you make a private agreement with your lender). It's also important to note that this act doesn't expunge any of your total student debt, it just pushes payment dates back.
Do I need to request the federal loan payment suspension?
No, for federal loans this measure was automatically put in place. It's still a good idea to keep an eye out for mail or withdrawals from auto-payments, as glitches are always a possibility.
Are my loans through a private lender suspended?
No—at the federal level, private lenders are not held to the same standards and are not required to partake in student loan suspension. However, although they are under no legal obligation, some private lenders are working to provide relief. Check-in with your private lender and see what options they are offering at this time. Be ready with documentation to prove a change in your income or other extenuating circumstances.
Yes, in some limited situations, if you live in New York. The state-level government reached an agreement that included private lenders, to give similar benefits to what the CARES Act provides. Check-in with your private lender if you haven't yet received any notice or update from them.
Does the CARES Act provision get rid of my student debt?
No, the CARES Act provides federal loan suspension, not loan forgiveness. Once the suspension is over, borrowers will be expected to resume payments at the normal rate. Unless, of course, a separate agreement is made with the lender.
Will pausing loans hurt my credit score?
In short, no. If you're talking about federal loans, pausing your payments during this reprieve should not have any negative effects on your credit score as there would be no reports of any late payments or non-payments.
If you stop paying back loans to a private lender without reaching an agreement to do so beforehand, that could have a damaging effect on your credit score.
If you're worried or unsure about the state of your credit try a free credit report and consultation.
Can I continue making payments?
Yes, you can but you may not want to under certain circumstances — including if you believe you should save more money in your emergency fund or if you're trying to qualify for Public Service Loan Forgiveness (PSLF). According to the US Department of Education, each suspended payment will be considered a payment towards PSLF, so affect you in ways that are unhelpful to your situation. Make sure you understand how any action will affect the future of your student loans.
It could be a good idea to continue making payments if you aren't working towards PSLF and feel comfortable with your savings and income stability. Your interest will stay at 0% during this period and you can pay off your debt faster than if you wait. You could also make smaller payments if that's a better balance. Contact your lender to better help you navigate your specific situation.
It's crucial to note that this is general information and not personalized financial advice — consult a professional to see what the best option is for your individual situation.
Will my tax refund still be withheld if I have defaulted loans?
According to StudentAid, federal tax refunds will not be returned "if the process to withhold your refund was completed before March 13, 2020." Your tax return will be refunded to you if the withholding process was in progress "on or after March 13, 2020, and before Sept. 30, 2020."
What happens if I'm late turning in loan payments after September 30, 2020?
Until any further provisions are made, turning in late payments after this federal loan suspension period will likely result in the penalties you were subject to before the COVID-19 pandemic. Check with your lender for more details about your specific plan arrangements.
The state of our economy is somewhat at the mercy of COVID-19. In this rapidly changing environment, new developments could urge politicians to take further action — only time will tell. Follow the Center for Disease Control (CDC) and World Health Organization (WHO) announcements to stay up-to-date on the latest coronavirus news.
The Importance of Credit Repair
While loan deferment or forbearance are good options to help you protect your overall credit if needed, chances are there are other financial factors at play that affect your ability to pay your bills and thus threaten your credit score.
If you're not meeting your financial goals, it might be time to conduct an in depth review of your credit score. After all, a less-than-stellar credit score can negatively impact overall financial security from high interest rates to the inability to secure a loan.
If poor credit is impacting your ability to achieve financial success, consider learning more about the credit repair process. For more than 20 years, Lexington Law has helped consumers improve their understanding of their credit score while distinguishing itself as a leader in the credit repair industry. If poor credit is inhibiting your ability to pay off loans or stands in the way of financial goals, contact Lexington Law today.
You can also carry on the conversation on our social media platforms. Like and follow us on Facebook and leave us a tweet on Twitter.
Source: lexingtonlaw.com